Author
Ghrek
Written 4 posts
Earn +10 XP!
Written by
Harold
on
Nov 29, 2018
Netflix, on its official twitter account, announced that a live action series of the acclaimed Cowboy Bebop is coming to its platform. They haven't revealed any information regarding the release date, but it was also said that the original
Earn +10 XP!
Streaming giant Netflix, using what appears to be black magic, has somehow gotten the classic anime Neon Genesis Evangelion locked in for their 2019 lineup. While Evangelion's legal rights and streaming troubles have been well documented,
Anime News
Sword Art Online: Fatal Bullet— Coming This February 23rd
Written by
Ghrek
on February 02, 2018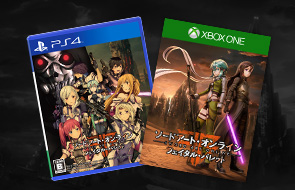 Sword Art Online: Fatal Bullet is the new installment of the franchise, and it isn't certainly the first SAO game but can be clearly seen as the best one yet.
If you weren't aware, SAO had released a couple of games in consoles, PCs, and mobile games. Most of the games aren't non-canon to the actual main story because it contains different endings and it also changes minor things from the actual story that we see in the show. You could also play as Kirito, our beloved main character in this franchise, most of the games released under the title.
Reception
Fans of the franchise are eager to play and have pre-ordered the game via its respective Steam page, which would unlock two weeks from now. The game was also released on February 8th in Japan, and communities from various sites are impatient to hear some spoilers about the story.
However, one of the intriguing parts of this speculation is the supposed DLC— The Third Episode. This movie, which depicts a third story, was not included in the main story itself.
Here is a 3-minute trailer of the special movie (from Bandai Namco) :
About the franchise
We may never know what's going to happen or whether this game would be a success to both newcomers and veterans to the franchise. If you haven't seen Sword Art Online, I suggest doing so. It's one of the gateway shows to anime shows, thus why it is considered to be a mainstream show in a good way.
Reki Kawahara, the original author, has certainly been prosperous with Sword Art Online from the East to the West. His work is one of the reasons why we have a lot of anime fans today since 2012. Certainly, there had been a lot of criticism towards this show from certain elitists, but there's no doubt that SAO had a huge impact on the anime industry in terms of sales and popularity.
As time goes on, we'll see this franchise being successful again this year. From this game, the spin-off, and the eventual third season of the main show.
A great year for the fandom, and the author himself.
Opening
Special thanks to Aziath for giving me what to write about for my first article.
---
Comments
---